Biking, Hiking and Rollerblading In Lake George NY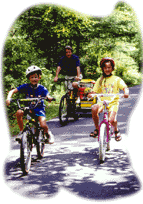 Lake George is great "Bike Country"
My favorite spot to bike, is the rolling paved Warren County bikeway which runs nine wooded miles from Lake George to Glens Falls. Ride from the southern tip of Lake George along a wooded bike path. Stop and check out the Colonel Williams Monument - which is a great place for a picnic... or for another historic stop... Bloody Pond (named so due to a bloody battle which took place at the pond in the French and Indian War) is a great place to stop in the springtime (the entire pond is surrounded by lilies.). Later on in the ride you will be rewarded with beautiful views of Round Pond. Round Pond is a popular spot for fishing as well. For your free map, call 518 623-2877.
The easy flat ride on the Feeder Canal Trail, has a hard packed gravel surface - so is not suitable for rollerbladers, but is great for families. You can obtain your FREE trail map from the Feder Canal Alliance by calling (518) 792-5363.
For mountain bikers, there is no greater challenge than the dirt trails of the Adirondack Mountains. Or take the gondola up Gore Mountain and bike down or visit Garnet Hill for great biking trails (very affordable). So, when traveling to Lake George New York, don't forget to bring your bike!
For rollerblading - the Warren County Bike path is the best. But when weather doesn't cooperate, it's always nice to know you can bring the family to The Fun Spot for rollerskating fun!
Hikers will find great hiking in the nearby Adirondack Mountains - Check out some suggested hikes and walks! Click here for Adirondack Hiking!
Southern Adirondack Spokes - Introducing the Downtown Glens Falls Criterium. The mission of the club is to promote Adirondack cycling and its benefit to tourism, health and recreation, and local economies in the Warren and Washington County communities.